Ad blocker interference detected!
Wikia is a free-to-use site that makes money from advertising. We have a modified experience for viewers using ad blockers

Wikia is not accessible if you've made further modifications. Remove the custom ad blocker rule(s) and the page will load as expected.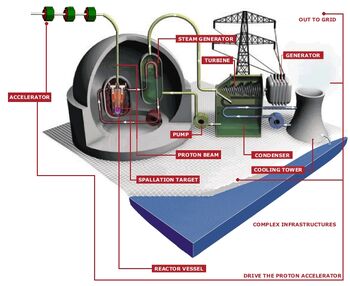 Welcome to the Thorium Energy Amplifier Wiki
The ThorEA wiki is a repository for information about thorium energy amplifiers. It is maintained by the Thorium Energy Amplifier (ThorEA) organisation, www.thorea.org
Table of Contents
Thorium (Th)
Research and Development (R&D)
Resources
Gamma Rays Aassociated with the Thorium Fuel Cycle
High-Energy γ Rays
Gamma‑Ray Activity in Spent Thorium Fuel
Fuel Storage
Thermal, Epithermal and Fast Neutron Spectra
General Propertie of Key Fissile and Breeder Nuclei
Selected Nuclear Data
Criticality and Reactor Control
Conditions for Criticaility
Negative Doppler Reactivity Feedback
Voiding
Actinide Abundance in the Thorium Fuel Cycle
Plutonium Abundance
Actinide Evolution and Equilibrium in the Thermal and Fast Fuel Cycles
The Role of Protactinium
"Dirty Bombs"
Enriched Thorium?
Man-made Fissile Isotopes
Plutonium
Summary of Physical Properties of Typical Coolants
Sodium
Lead
Lead-Bismuth Eutectic (LBE)
Carbon Dioxide (CO2)
Helium (He)
Water (H2O)
The Spallation Reaction
Neutron Yield from Spallation
Choices for the Target Material
Requirements
Energy
Beam Currents
Beam Particles
Reliability
Accelerator Technologies
Linear Accelerators
Cyclotrons
Synchrotrons
FFAGs
Principals of Economic Cost-Benefit Analysis
The Expected Cost of Constructing and Operating ADSRs
Status of the ThorEA Wikia
April 2010
The ThorEA wikia has been created. Information pertaining to all Physical, Engineering, Economic and Social factors associated with Accelerator-Driven Subcritical Reactors (also known as Energy Amplifiers) has begun being uploaded.
StevenjSteer 13:36, April 22, 2010 (UTC)
Latest activity